Solutions for overhead transmission lines
Transmission line dampers and spacers for bundled conductors
MOD2 Spacer Damper for Bundled Conductors
DOUBLE, TRIPLE AND QUAD BUNDLES
HORIZONTAL AND VERTICAL BUNDLES
RIVER CROSSINGS AND VERY LONG SPANS
A gallop control solution for twin, triple or quad bundles, the MOD2 Spacer Damper is effective at controlling galloping and vibration of medium and long spans. Acting as both a torsion and impact damper, the clamps are designed to swivel through large angles about the ring, a feature that allows the damper to attach to both vertical and horizontal bundles. This unique design mitigates sub-conductor oscillation as well as rolling of the bundle. Method of application interrupts single and double loop galloping amplitude.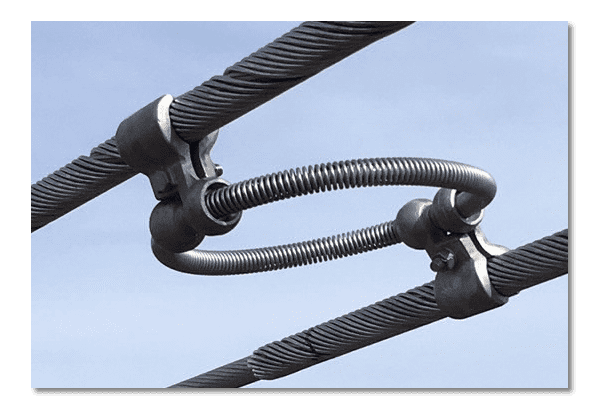 AR Lightweight Spacer Damper for Bundled Conductors
LIGHTER-WEIGHT SOLUTION FOR TWIN-BUNDLED LINES
SEPARATES THE BUNDLE & CONTROLS GALLOPING
Articulating clamps rotate and twist the conductor through large angles to achieve effective galloping control of the twin bundled conductor, while maintaining separation of the bundle. Installed on the conductor at 60 degrees, the clamp is free to rotate about a hinge axis up to a 120 degree range of rotation.
This design eliminates the potential for corona because the nut(s) at both ends of the stabilizer rod remain inside the bundle. Unlike rigid spacers that separate the bundle but without galloping control, the Lightweight has the widest possible angle of total rotation to facilitate a greater twisting ability of the conductor, and therefore greater galloping control.
Video: Watch the Lightweight Spacer Damper in action on bundled lines.